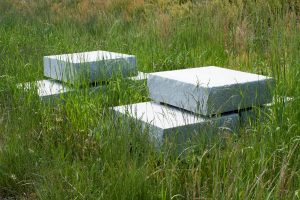 The plan to create an outline of the original barracks inside Fort Griswold began almost six years ago. The Friends of Fort Griswold came up with the idea to honor the defenders by marking the area where the barracks once stood using granite curbing to show its precise location. The exact location and measurements were sketched by a British Officer following the grisly battle in 1781.
The first step was estimating the cost of the project, followed by years of fundraising to insure there were ample funds to cover those costs. The group's Treasurer, David Rose, began by writing grant requests to cover the cost of the granite that would be used for the outline. That piece of the project was soon funded with grants from the Society of the Cincinnati and the Connecticut State Elks Association totaling over $5000.00. The balance of the cost of the site work to excavate, bring in gravel, level, and install the curbing was raised through a series of membership drives and fundraisers in the intervening years.
In June of 2016, archaeologists from the State of Connecticut surveyed the fort using historical maps and newer aerial surveys. Connecticut State Archaeologist Dr. Brian Jones directed the study, which included Light Detecting and Ranging (LIDAR) maps and the use of GIS technology.
Finally, in May of 2017, work began. Getty Granite ordered the granite, and began cutting more than 48 six- and eight-foot lengths totaling 332 feet. In addition, eight 400 pound stones were added to mark the location of chimneys. Peter S. Turello was chosen to do the installation, which began on Monday, May 15th. By May 21st, the outline was finished, and all that remained was the site work to replace the sod around the outline. Interpretive signs to explain the project will soon be installed, and the next step–a platform overlooking the battlefield, will begin.
The Friends of Fort Griswold have a ribbon cutting ceremony planned for September 3, 2017 at 6:00 p.m. to celebrate the completion of this exciting new addition to the fort.